May. 17, 2017
Once again, FLB was a sponsor and participant in the Volunteer Challenge, hosted by The Volunteer Center of the Lehigh Valley. The Center challenges companies to form teams and compete to complete a sustainable project for a nonprofit agency. For 2017, FLB chose to work with Central Elementary in Allentown, PA.
The FLB team partnered with Central Elementary School in Allentown on a Positive Minds/Positive Body campaign. 
Positive Minds
Goal: Reaffirm positive, welcoming messages to students, families and visitors
FLB provided a new welcome rug outside the main office, where all students, families and visitors must walk through daily.
Updated the drab main stairwell with inspiring and imaginative decals on the walls and stairs to reaffirm positive, welcoming messages to students, families and visitors.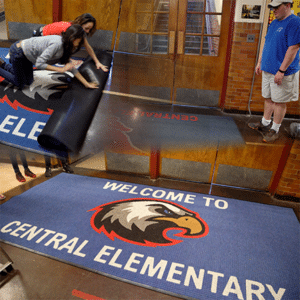 Positive Body
Goal: Encourage students and families to make positive food choices
FLB provided planter boxes and soil, as well as herb, fruit and vegetable plants so the students could grow their own fresh fruits and vegetables throughout the year.
Trellises for the snap peas and cages for the tomato plants were also provided to ensure successful growth of those plants.
The team also purchase six pairs of children's gardening gloves and six watering cans, as well as related supplies for the students to make their own plant markers.
Held "Fresh Fruit Friday" where FLB staff, paralegals and attorneys personally handed out more than 600 pounds of fresh fruit to the students and families of Central Elementary.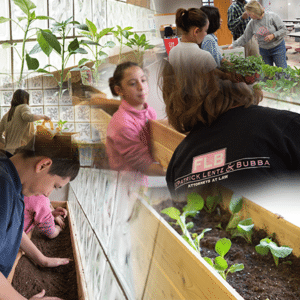 FLB's Volunteer Challenge – By the Numbers:
$2000+: Amount of money raised by FLB attorneys, paralegals, management and staff for the project
250: Volunteer hours put into the Challenge by FLB attorneys, paralegals, management and staff
35: Number of Volunteers who helped plan and execute the challenge
30: Number of inspiring or imaginative decals mounted on stairs and walls to improve the look of the main stairwell and morale of the students, several of which were customized to incorporate Central Elementary's name and Eagle mascot
1: Brand new entry way carpet, customized with Central Elementary's name and mascot incorporated in
6: Custom made cedar planters made and given to Central Elementary, tailored for each grade in the school
36: Total feet in length of all planters (6 feet long each)
30: Cubic feet of soil used to fill the planters
50: Vegetable, fruit and herb plants potted for the students to grow and cultivate
600: Pounds of fruit handed out to the students and families of Central Elementary
845: Smiles and thank yous received by the students for taking an interest in them and their school.
Success Achieved!
Throughout the challenge, the FLB team worked side by side with the students of Central Elementary, who were very thankful for both the opportunity and the work being done on their behalf:
"Thank you for the beautiful garden – I really love it!"
"Thank you! Now we can have nicer things here. We love it! Today is wonderful!"
"Thank you for giving us a garden. That was really kind. It is really pretty."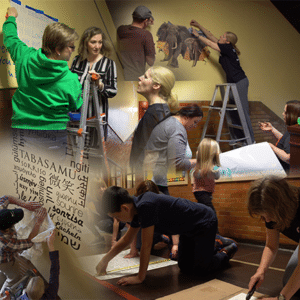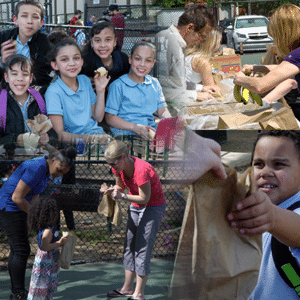 To view the team in action and hear the reactions of students and faculty, watch our Volunteer Challenge video.
For all of their efforts, the FLB team won The Volunteer Challenge, taking home the award in the mid-sized category. Thank you to all of our employees and supporters who voted for us and raised money for The Volunteer Center of Lehigh Valley.