Jul. 28, 2017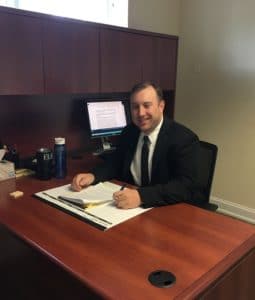 by Tom B. Zengel, 2017 Summer Associate
My experience as a Summer Associate at Fitzpatrick Lentz & Bubba was second to none.  I had the opportunity to work in many different areas of law and learn from some of the best attorneys in the Lehigh Valley.  I researched and worked on issues regarding tax assessments, property sales, environmental requirements, eminent domain proceedings, corporate contracts, adverse possession, and much more.  I drafted an easement, notice of recitals, a brief, and a complaint.  I was lucky to work on a variety of projects with numerous different attorneys.  I attended department meetings and helped present.  I was also able to attend court and events around the Lehigh Valley with FLB attorneys.
FLB has clients throughout not only the Lehigh Valley and Pennsylvania, but the country and each client has its own wants and needs.  I learned that it's important to learn not only what your client wants done, but how your client wants something done, and how to work with them to find the best possible solution.
FLB has amazing clients and does amazing work but what separates it from anywhere else is the people.  Prior to beginning my summer at FLB I was sent a study package during exams, and the day I arrived I had the chance to meet everyone in the office.  Everyone's door was always open if I had a question, no matter how small the question was, I was part of the team.  I enjoyed lunch each week with shareholders, went to a cookout on the patio, and attended the monthly associate's lunch.
I had the chance to go to different firm events after work like a race at Grandview Speedway, attorney dinners, the firm Barbecue, and go-cart racing.  I had an amazing summer at FLB, the 12 weeks flew by, and I can't believe how much I've learned.
---
Read what our other 2017 Summer Associate had to say, as well as our 2016 Summer Associate.
Want to join our team next summer? Apply today for our 2018 Summer Associate position!