Feb. 20, 2013
Timothy D. Charlesworth, a shareholder and attorney in the Corporate, Business and Banking Group of Fitzpatrick Lentz & Bubba, P.C. (FLB), has been selected to receive a Lehigh Valley SUITS Award for Legal Services. The awards highlight the outstanding achievements of individuals and teams who work within nine service industry sectors in the Lehigh Valley.
This year's winners will be honored at a special event held at Daniels BMW in Allentown on March 26. Proceeds from the event benefit Equi-librium, a therapeutic horseback riding program. Jane P. Long, a Firm shareholder and Chair of the Firm's Corporate, Business and Banking Group, received the Lehigh Valley SUITS Award for Legal Services in 2009.
Mr. Charlesworth's practice includes international trade law, including distribution & agency relationships, technology licensing, business and commercial law.
Tim actively promotes international trade between regional companies and companies abroad. He is the current President of the World Trade Club of the Lehigh Valley, and is a Member of the Board of Directors for the Lehigh Export Network and Bucks County International Trade Council. Tim is also an adjunct faculty member of the ACCESS Program at DeSales University. He teaches International Business Law classes to students in the University's ACCESS Bachelor's degree program.
Fitzpatrick Lentz & Bubba, P.C., is a full-service law firm providing quality legal services in real estate, land use, business, commercial litigation, health care, estate planning & taxation, employment, bankruptcy, family law and related areas. The law firm has been named "Who's Who in Business Lehigh Valley" each year since 2008, and has been named one of the Best Places to Work in PA 2010- 2012.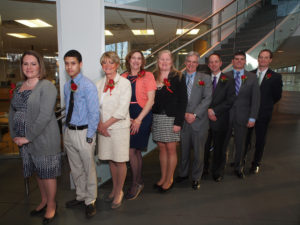 Pictured above, winners in catergories, L-R:
• Management Consulting: Maureen Thomson, Concannon, Miller & Co.
• United Way of the Greater Lehigh Valley: Richard Ramos, Snow Angels
• Marketing/Advertising/Design: Gale Schmidt Hodavance, Jangle AMC
• Human Resources: Joanne Janci, Aaron Resources
• Commercial Real Estate: Pam Morris, Liberty Property Trust
• Banks/Financial Services: Michael Joyce, JoycePayne Partners
• Law: Timothy Charlesworth, Fitzpatrick Lentz & Bubba, P.C.
• Accounting: Brian Regan, RLB Accountants
• Insurance: Joseph Lennert, Caruso Benefits Group