Feb. 1, 2022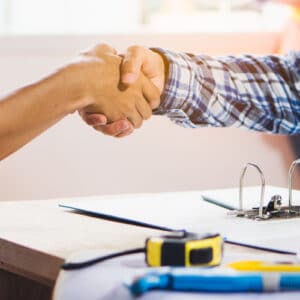 In the current hot real estate market, many homeowners looking to sell are conducting home improvement projects to increase the value of their homes. And with work-from-home culture becoming a permanent staple across many industries, people are improving their living and workspaces in their homes. Home improvement projects aren't cheap, and neither are the potential consequences of a dispute between homeowner and contractor. However, home improvement contracts are given special treatment under Pennsylvania's Home Improvement Consumer Protection Act (HICPA).
True to its name, HICPA aims to protect homeowners from various fraudulent and deceptive practices by home improvement contractors. HICPA imposes strict requirements on home improvement contracts and contractors; provides additional protections to consumer homeowners; and imposes potentially steep penalties against home improvement contractors who fail to comply. HICPA can be both a sword and a shield for the consumer homeowner hiring someone to conduct a home improvement. While HICPA aims to protect consumer homeowners from bad-acting contractors, contractors who are well-versed in HICPA's requirements can avoid its pitfalls, avoid harsh penalties, and go into projects with confidence knowing their contracts are compliant.
Anyone who owns or operates a home improvement business or offers, performs, or agrees to perform home improvements in Pennsylvania is considered a "home improvement contractor" covered by HICPA. There are two significant exceptions: small contractors (those who perform less than $5,000 of work in the previous taxable year) and large retailers (with a net worth of more than $50 million) are expressly excluded. All home improvement contractors must register with the Office of Attorney General and be assigned a home improvement contractor registration number.
HICPA imposes a monetary threshold and only governs contracts for which the total cash price of all work agreed upon between the contractor and owner is more than $500. Further, the services must fall within HICPA's definition of "home improvement," which includes several categories of services such as repairs, replacements, demolition, removal, renovation and modernization. Further, home improvements extend beyond the home itself, such as the construction improvement of swimming pools, porches, decks, driveways and fences. Notably, HICPA does not cover other types of contracts, such as those for the construction of new homes or the sale of goods or materials in connection with a home improvement contract.
Home improvement contracts must strictly adhere to the following specific requirements and include the following information to be valid and enforceable against homeowners:
Must be in writing, legible and contain the entire agreement between the parties;
Must be signed by the homeowner or his agent and the contractor or salesperson on behalf of the contractor;
The home improvement contractor must agree to maintain liability insurance covering personal injury in an amount not less than $50,000 and insurance covering property damage caused by the work of a home improvement contractor in an amount not less than $50,000 and identifies the current amount of insurance coverage maintained at the time of signing the contract;
Must include the following items:
The home improvement contractor's name, address, telephone number and registration number;
The names, addresses and telephone numbers of all subcontractors on the project known at the date of signing the contract;
The date of the transaction;
The approximate start and completion date of the home improvement project;
A description of the work to be performed, the materials to be used and a set of specifications that cannot be changed without a written change order signed by the owner and the contractor;
 The total sales price due under the contract or includes a time and materials provision wherein the contractor and owner agree in writing to the performance of the home improvement by the contractor and payment for the home improvement by the owner, based on time and materials (there are further requirements for a time and materials provision);
Amount of any down payment plus any amount advanced for the purchase of special order materials, listed separately;
 The toll-free number where the homeowner can contact the Pennsylvania Office of the Attorney General to verify the home improvement contractor's registration;
 A notice to the homeowner that they may rescind the contract without penalty within three business days of signing the contract.
If the contract fails to comply with HICPA's requirements, it is invalid and unenforceable against the homeowner. On the on hand, these requirements are the homeowner's shield to a potentially fraudulent claim by a contractor. But on the other hand, a contractor who understands these requirements can ensure that his contracts are enforceable under HICPA.
HICPA also prohibits home improvement contracts from including specific provisions, including but not limited to provisions waiving compliance with federal, state, or local health, life, safety or building code requirements or the conditions of HICPA. If a home improvement contract contains any prohibited provisions, the homeowner may void the contract.
Aside from imposing strict requirements on home improvement contracts, HICPA also prohibits contractors from some specific acts, such as abandoning a home improvement project, deviating from plans or specifications without a written change order, or accepting a municipal certificate of occupancy with knowledge that the contract is not complete. One of the punitive aspects of HICPA is its incorporation of the Unfair Trade Practices and Consumer Protection Law, which exposes home improvement contractors to civil liability for triple the amount of damages claimed by the homeowner in a lawsuit alleging a violation of HICPA as well as the homeowners' attorneys' fees. This is the homeowner's potential sword against a home improvement contractor that violates one of HICPA's prohibitions.
HICPA also creates the criminal offense of "home improvement fraud," which encompasses multiple forms of misrepresentations and deceptive conduct by a home improvement contractor. For example, a contractor cannot make false statements to a homeowner to encourage them to hire the contractor to complete a home improvement project. The offense of home improvement fraud under HICPA can result in varying degrees of criminal liability for a home improvement contractor depending on the value of the contract or payment involved, and the home improvement contractor can lose its certificate of registration.
Home improvement is highly regulated in Pennsylvania, from HICPA's strict contract requirements to the rules, requirements and prohibitions for home improvement contractors. While HICPA aims to protect consumer homeowners and punish bad-acting contractors, a contractor familiar with its provisions can avoid the pitfalls and confidently contract for new home improvement projects.
Reprinted with permission from the Winter 2022 Edition of Network Magazine© 2022  All rights reserved. Further duplication without permission is prohibited.