Jan. 14, 2022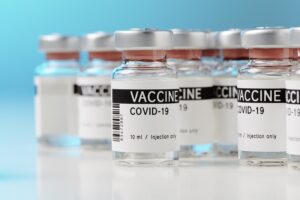 Yesterday, the U.S. Supreme Court threw a monkey wrench in President Biden's six-pronged, comprehensive national strategy to combat the COVID-19 pandemic by ordering a stay of enforcement of the recently enacted COVID-19 vaccine-or-test mandate issued as an emergency temporary standard by the Occupational Safety and Health Administration (OSHA). The mandate covered virtually all employers with at least 100 employees, with few exceptions. It required that covered workers receive a COVID-19 vaccine or require workers to complete a COVID-19 test each week.
Eventually, after many states, businesses and organizations challenged the mandate in various courts, the cases were consolidated. Challengers to the mandate in those cases then sought emergency relief from the U.S. Supreme Court, arguing that OSHA's vaccine mandate exceeds the authority granted to it by Congress and is otherwise unlawful.
In its decision yesterday, the Supreme Court granted the requested emergency relief, agreeing with the applicants that they were "likely to prevail" on the merits of their argument that OSHA exceeded its statutory authority with the vaccine-or-test mandate. The Supreme Court explained, among other things, that OSHA's power is limited to ensuring occupational safety and the standards and rules OSHA promulgates must be reasonably necessary or appropriate to provide safe or healthful employment, and broad public health measures such as this vaccine mandate exceed OSHA's authority. According to the Supreme Court, the risk of contracting the COVID-19 virus does not qualify as a work-related danger or occupational hazard. Instead, it is a day-to-day hazard of daily life shared by the general public.
The Supreme Court did provide some guidance as to what types of measures OSHA could enact to address COVID-19 related workplace safety issues. For example, the Supreme Court stated that targeted regulations, such as those regulating risks associated with working in particularly crowded environments, would likely be within OSHA's authority.
The consolidated cases challenging the mandate will return to the lower courts for a determination as to whether, as is likely, the mandate should be halted permanently.
In the meantime, employers should be aware that the stay of OSHA's large employer vaccine-or-test mandate does not relieve them of responsibility for protecting employees from COVID-19 in the workplace. Indeed, healthcare providers subject to oversight by the U.S. Centers for Medicare & Medicaid Services (CMS), certain federal contractors, and employers with operations in states with specific health mandates, must continue to comply with separate COVID-19 mitigation requirements. Moreover, and despite yesterday's Supreme Court ruling, almost all employers must continue to take at least basic precautions to mitigate the risk of COVID-19 transmission in their workplaces pursuant to the "general duty clause" of the Occupational Safety & Health Act. Furthermore, OSHA is likely to respond in the coming months with more targeted measures in response to the Supreme Court's decision.
Our Employment Law attorneys are closely monitoring these developments and are available to answer and assist employers with understanding and complying with their obligations to protect against COVID-19 related workplace hazards.