Mar. 29, 2019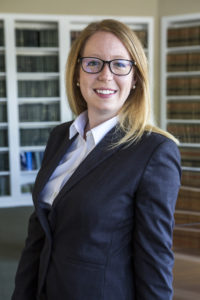 Fitzpatrick Lentz & Bubba, P.C. is pleased to announce that Veronica DeAngelo Johnson, attorney in the Firm's Corporate, Business & Banking Group, has recently joined the Board of Directors of the Volunteer Center of the Lehigh Valley. She was voted in unanimously by current Board Members at the end of March.
The Volunteer Center is a nonprofit organization committed to improving the local community by pairing thousands of eager volunteers with over 450 charitable organizations across the Lehigh Valley. These volunteers can be individuals, groups, or even large businesses; the Volunteer Center of the Lehigh Valley can find a fitting cause for anyone.
Ms. Johnson has been involved with the organization's various events for several years, as both a volunteer in the annual Volunteer Challenge and as a committee member and judge for the organization's "Spirit of Volunteerism Business Awards."
"I love the Volunteer Center because of the diversity of its impact on the community," Ms. Johnson explained. "The organization does a great job of recognizing the incredible work done by both the charities and the volunteers, while also offering a number of training programs for individuals serving on non-profit boards."
Ms. Johnson is also currently a member of CREW (Commercial Real Estate Women) Lehigh Valley and serves on the Board of Directors for the Friends of Liberty Theatre.