This Summer Associate opportunity offers valuable hands-on experience in a range of commercial and personal law matters. As a Summer Associate, you will work on challenging projects and assignments that give you a realistic glimpse into law firm life. You will be able to attend trials, depositions, real estate closings, client meetings, and various Firm events and social activities. Assigned mentors will provide you with guidance, advice, and share their expertise throughout the program. To qualify for this position, you must have completed two years of law school from an accredited institution and have excellent academic credentials. The position is full-time for a minimum of 10 weeks, beginning in late May 2024 and ending in August 2024 (depending on the academic calendar).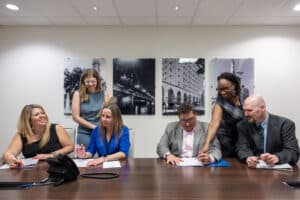 RESPONSIBILITIES
Responsible for developing an understanding of each assigned client's business and business philosophy.
Identifies, collects, analyzes, abstracts, organizes and maintains facts and documents.
Prepares draft legal documents for attorney review.
Develops and maintains knowledge of statutes, court decisions and customs relating to legal procedures and practices in appropriate areas of law.
Assists in the analysis of legal proceedings by identifying problems, needs and procedures.
Researches relevant law as assigned.
Completes other duties as assigned.
REQUIRED DOCUMENTS
Cover Letter
Résumé
Unofficial Transcript
Writing Sample
ABOUT FITZPATRICK LENTZ & BUBBA
Fitzpatrick Lentz & Bubba is a prominent regional law firm situated in the heart of the Lehigh Valley, Pennsylvania's third-largest metropolitan region, specializing in commercial and personal law matters. Our team consists of some of the most brilliant legal minds in the region who possess the expertise to handle a wide range of legal issues for our diverse clientele. We are always on the lookout for exceptional talent that seeks fresh challenges and professional advancement. Our top priority is our clients, and we prioritize responsive and direct communication, teamwork, and collaboration. Moreover, we have created a friendly environment that values honesty and promotes dialogue to address intricate problems for our clients. Our commitment to these values has earned us numerous prestigious accolades, including 10 consecutive years on The Morning Call's Top Workplaces list and being named the company with the best business culture in the 2022 Lehigh Valley Business Reader Rankings Awards.
Fitzpatrick Lentz & Bubba, P.C. is an Equal Opportunity Employer (U.S.). All applicants will receive consideration for employment without regard to race, color, religion, national origin, age, gender, marital status, pregnancy, sexual orientation, gender identity and expression, disability, or veteran status.
Our positions for 2024 Summer Associates have been filled. We will open the application for 2025 in January 2024.