Mar. 30, 2023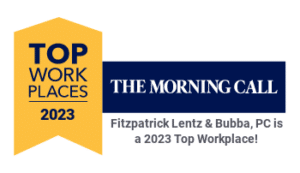 ALLENTOWN, March 31, 2023 – For the 10th year in a row, Fitzpatrick Lentz & Bubba, P.C. has been selected as one of The Morning Call's "Top Workplaces." As the firm celebrates a decade of being one of the area's top businesses in the "Small Employers" category, it also commemorates 35 years in business.
"The last 35 years have demonstrated an exciting growth story,  for the Lehigh Valley, for our firm and our clients," says Erich J. Schock, Managing Shareholder. "For FLB, this growth and our success are built upon a talented team of attorneys, paralegals and staff. Their feedback validates that the workplace culture we've created is noteworthy and makes a difference in their lives and the community where we live and work."
In 1988, Attorneys Joseph A. Fitzpatrick, Jr., Joseph A. Bubba and Edward J. Lentz, who had practiced together previously at another Lehigh Valley firm, united to build a firm that would have a lasting impact on the area's growth and economic strength. After opening an office in downtown Allentown with three additional attorneys,  the firm relocated to the Stabler Corporate Center in Center Valley in 1992, recognizing the area would become a central business and employment hub for domestic and international corporations. Throughout the years, the firm's client base, areas of practice, and number of employees continued to grow, precipitating the addition of an office in Easton to better serve clients in Northampton County and western New Jersey in 2015. In early 2020 the firm decided to rejoin the business community in downtown Allentown, at a 20,000-square-foot space on the 8th Floor of Two City Center, bringing its legal and administrative offices all under one roof.
"Since the beginning, we've emphasized a culture of integrity," says Joseph A. Fitzpatrick, Jr., Founder and Shareholder. "We began with a promise to focus on our clients, and that still continues today as we celebrate these milestones as a firm. It's gratifying to see our team rallying, solving sophisticated legal challenges while finding satisfaction in their work and our culture. We know this will help us continue to attract and retain top legal talent."
Announced at the Top Workplaces celebration on Wednesday, March 29 at SteelStacks in Bethlehem, Fitzpatrick Lentz & Bubba ranked 13th overall in the "Small Employers" category, and the highest-ranking law firm overall. The Top Workplaces are determined based solely on employee feedback. The employee survey is conducted by Energage, LLC, a leading research firm on organizational health and employee engagement. Energage has conducted surveys in over 70,000 organizations nationwide.
The complete list of the Lehigh Valley's 2023 Top Workplaces can be found here: https://www.mcall.com/2023/03/29/lehigh-valley-top-workplaces-2023-winners-list/.