Sep. 12, 2023
AlexandraM. Rozzi has joined Fitzpatrick Lentz & Bubba's Corporate, Business & Banking practice group, focusing on Taxation. Her focus will be assisting clients with various business, transactional and tax matters, and providing tax analyses with respect to mergers, acquisitions, entity structuring and other matters faced by clients.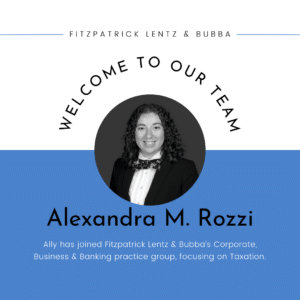 "We are thrilled to have Ally join our Taxation team," says Marie McConnell, Chair of the Corporate, Business & Banking group. "Due to constantly changing tax laws, businesses continue to face an increased number of tax-related issues both in their day-to-day operations and with respect to transactions such as mergers, acquisitions and sales. This, coupled with higher scrutiny by taxing authorities, compels our clients to seek additional legal support as they navigate complex tax matters. Ally's experience and success in resolving business tax controversies will be an asset to our clients and our firm."
Ms. Rozzi will handle complex federal, local and state tax matters such as:
● Mergers and acquisitions
● Federal tax matters
● Pennsylvania sales tax issues
● Pennsylvania gross receipts tax issues
● Local business privilege taxes and property taxes
● Nonprofit tax matters
FLB's Taxation group serves businesses and individuals in Pennsylvania and New Jersey, assisting taxpayers through a complex array of taxation issues. In addition to reviewing and implementing individual and business tax planning options and strategies, the team regularly provides guidance in identifying and reducing potential tax consequences in connection with the following:
● Choice of entity
● Business restructuring
● Mergers & acquisitions, including asset and stock purchases and sales
● Corporate consolidations, divisions and dissolutions
● Wealth transfers during lifetime or at death, including the use of Family Partnerships/LLCs and business succession tax planning
● Local and state business tax appeals, including business privilege taxes and sales and use tax
● Structuring of commercial and/or real estate transactions
● Property tax assessment appeals and exemptions
● Nonprofit federal and state tax exemption matters
Prior to joining the firm, Ms. Rozzi worked in a global tax audit and consulting firm. She also completed several clerkships, including an Honors Internship with the Internal Revenue Service in Philadelphia.
A graduate of Villanova University Charles Widger School of Law, Ms. Rozzi is a member of the American Bar Association, Pennsylvania Bar Association, and Philadelphia LGBTQ Bar Association. Aligning with FLB's commitment to the community, Ms. Rozzi has been volunteering with a local cancer charity as an advocate since 2014.
FLB is honored to welcome Ms. Rozzi to the firm's Corporate, Business & Banking and Taxation groups.