May. 30, 2023
Adaptive reuse and redevelopment are trending in both residential and commercial land development as part of the push to revitalize underutilized urban areas. Redevelopment offers many benefits, such as giving new life to existing structures and potentially reducing construction times. Yet not every redevelopment project is a walk in the park. These projects require a unique public-private relationship an adaptive reuse attorney can help you navigate.
Building a Community Partnership with an Adaptive Reuse Attorney
To help make a redevelopment project viable, you should evaluate certain factors such as zoning and environmental concerns before you move forward. What uses are permitted? Are there any environmental concerns? Having an attorney skilled in adaptive reuse and redevelopment can be instrumental with regard to the following: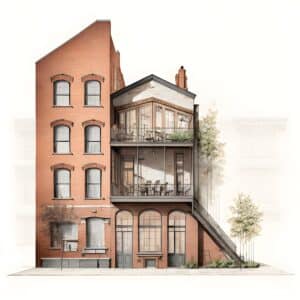 Evaluating the current state of land use regulations as it relates to a particular project
Preparing zoning relief applications and/or zoning amendments
Appearing before local planning and zoning boards
Working with third party consultants to address environmental concerns
Reviewing and negotiating documents associated with project approvals
Working with municipal and community staff and consultants to facilitate a project
A municipality's appetite for land use will dictate how to present your project. You may find a municipality is more receptive to redevelopment to help propel economic development, conserve the environment, and support neighborhood revitalization. An attorney will help you to understand how the community perceives the property in order to showcase how your project is beneficial.
Addressing Title Concerns with an Adaptive Reuse Attorney
You will need to conduct a thorough title search and review of the property on which you seek to build your project. There may be underlying deed restrictions or restrictive covenants which prohibit your proposed use. There may also be easement rights that restrict where and how you can build. Should any of these issues arise, an experienced legal team can work to clean up and clear title issues. In addition, an attorney can help you review title insurance options, which can also provide some protection against adverse claims.
Seeking Funding with an Adaptive Reuse Attorney
Getting funding for your redevelopment project is made easier by working with attorneys who have significant experience in commercial lending and relationships with traditional banks, private, and specialty lenders. These relationships will help to provide you with the leverage to receive optimal financing. In addition, redevelopment projects may be able to receive grant funding (sometimes at low interest rates) to incentivize your investment in a local community.
As the potential for a recession looms, it's expected that traditional lending opportunities may cool, forcing some developers to seek alternative funding courses. Grant funding is ripe to bridge the funding gap, particularly for those engaging in adaptive reuse and redevelopment. Applying for grants will require you to document how your project will positively impact the community. An attorney can help you prepare and share your plans in a meaningful manner.
Honoring Historic Designation with an Adaptive Reuse Attorney
If your project happens to involve the revitalization of a decaying property with historic designations, you may be met with public opposition. On one hand, a community may be thrilled to bring new life to a local eyesore; on the other hand, they don't want to see a significant landmark bulldozed to make way for shopping and condos.
It's important to verify whether or not the property is actually designated as historic. Sometimes, a "historic" property is not actually a preserved area that would restrict your ability to redevelop it, and rather, just a beloved piece of nostalgia. Sometimes, a property that is not "historic" is located in a historic zone and there are limitations based simply on the geographic location of a property. This is where an attorney, together with architects and engineers, can help you come to a creative solution.
Building a Foundation for Success with an Adaptive Reuse Attorney
While adaptive reuse and redevelopment are popular and often widely accepted, each project comes with its own set of challenges. Having an experienced attorney on your team can help you avoid regulatory resistance and building delays.
Well-versed in land use work, Attorney Stepanie Kobal is a member of our Real Estate, Land Use & Development team. She has represented some of the largest and best-known projects in eastern Pennsylvania, helping her clients successfully navigate local, state and federal agencies. With a practice rooted in strategy, practicality and honesty, Steph strives to be a valuable member of her clients' redevelopment teams.
Need help with your adaptive reuse project? Contact us for assistance.