Apr. 23, 2021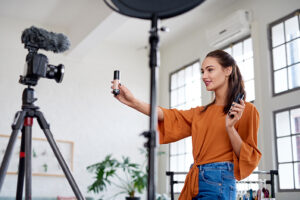 Social media is becoming more and more entrenched in our daily lives. Recent studies show that well over 70% of Americans have an account on at least one social media platform. While the use of social media continues to grow, the application of these platforms goes beyond communication uses. It delves into areas such as shopping or providing health, fitness, or wellness advice. As a result, the value of social media as a business marketing tool has never been higher. Businesses have been pouring marketing dollars into social media over the past decade, and, in 2021, experts estimate that U.S. social media ad spending will approach $49 billion.
One of the most common ways businesses have attempted to cash-in on the popularity of social media networks is by utilizing social media "influencers" to endorse their products and spread brand awareness. A social media "influencer" is effectively an individual: (i) whose social media account(s) has a strong "following," either in terms of raw numbers of "followers" or in terms of the ability to reach consumers in a certain target demographic; and (ii) who gets paid to "post" image(s), video(s) or other content on their social media account endorsing, or otherwise marketing, the products, and services of businesses. An influencer could be anything from a traditional celebrity (think a "Kardashian"); to professional athletes (both in terms of the "major" sports leagues [NFL, NBA, MLB, etc.], as well as triathletes, runners, bikers, swimmers and other high-level "Olympic" or "endurance" sports athletes); to personal trainers, wellness experts, chefs, parenting bloggers, online "gamers," travel bloggers and any other individuals with strong followings within their respective niche. In fact, over the last few years, the types of influencers have proliferated greatly, with influencers now filling every conceivable niche and sub-niche.
Social media influencers can provide a great marketing value for businesses, as their endorsement activities provide companies with a way to directly reach, engage and interact with whatever sub-segment of consumers they deem to be their desired target market. In addition, influencer content always has the ability to go "viral" (meaning that the post is "liked" and "re-shared" by numerous followers), which obviously can provide, at no additional cost, enhanced PR and marketing benefits.
Therefore, there are many great reasons why a business may elect to utilize social media influencers to market its products or services. However, when doing so, it is extremely important to have a written endorsement agreement with each influencer that clearly outlines each party's rights, responsibilities, and compliance obligations. Here is a brief summary of certain key topics that should be addressed in any good influencer endorsement agreement.
CONTENT PRODUCTION / CONTENT OWNERSHIP 
The heart of any social media influencer endorsement is to clearly define what "content" the influencer will produce and post for your company. Specificity is absolutely crucial to avoid future issues down the road. A few common issues to consider:
What is the required format (blog or other written post, image, video, etc.) and the length of the post? 
What is the desired content of the posts? 
At what intervals will the posts be made and on what platform? 
How long must each post remain visible on the applicable platform? 
How will the influencer be expected to promote their posts? 
Perhaps most importantly, the agreement should require that the company have the right to approve all influencer "content" before it is posted on any social media platform.
CONTENT OWNERSHIP 
The agreement should also clearly address the often ambiguous topic of content "ownership." Does the company or the influencer own any content created as a result of the agreement? Alternatively, the parties may adopt a "hybrid" model as a compromise, for example, where the influencer maintains ownership of their content, but the brand can use it however they wish for a specified period of time.
EXCLUSIVITY
It is important to consider whether the arrangement should be "exclusive" during the term of the endorsement agreement. In other words, should the influencer be restricted from endorsing products/services that are similar to, or competitive with, those offered by your company during the length of the campaign (and, optionally for a time period afterward)? If appropriate, any exclusivity obligations could be structured to (i) identify specific product or service categories the company requires the influencer to avoid; or (ii) provide the influencer with a definitive list of prohibited competitors. In either case, expect resistance from the influencer on overly broad exclusivity arrangements, particularly if they derive the majority of their income from endorsement services. Moreover, as a general rule of thumb, the more "famous" an endorser is (and therefore, the more bargaining power they have), the more difficult it will be to get them to agree to exclusivity restrictions.
COMPENSATION
Every social media endorsement agreement should clearly articulate how, and when, the influencer will be paid. There are almost infinite variations as to how an endorser may be paid, but some common examples include: (i) fixed-fees per engagement; (ii) payments based on the number of posts that the influencer will make or the number of followers that they have; (iii) "per click" or other commission/performance-based models, which structure payments based on the number of consumers conversions; or (iv) a hybrid model of the above-stated options.
FTC COMPLIANCE / ENDORSEMENT DISCLOSURES
Certain Federal Trade Commission ("FTC") rules and regulations apply when companies are using endorsements in connection with their advertising. The FTC's rules effectively establish a basic truth-in-advertising principle that endorsements must be honest and not misleading. Put differently, an influencer's endorsement must reflect their honest opinion and can't be used to make a claim that the applicable company otherwise could not legally make regarding its products or services.
In addition, if the influencers have been paid or given something of value to endorse the product or service, then FTC rules require that they disclose that the posts are paid advertisements. The FTC reasoning for this requirement is that a consumer may find this information to be important information when evaluating the endorsement. FTC rules require that any such disclosures be clear, unambiguous and visible (and what this means in the context of social media posts has been the subject of various written guidance issued by the FTC). Adding certain "tags" like #paid #sponsored or #ad to posts can be sufficient (when such disclosures are "above the fold"), whereas other tags, such as #partner, #ambassador, and #thanks [brand], without further context, are generally not sufficient to comply with FTC. A failure to properly disclose paid relationships can result in both FTC fines and lawsuits from consumers.
TERMINATION
In what circumstances should the Company have the right to terminate the endorsement agreement? Obviously, if the influencer breaches the terms of the endorsement agreement, such as failure to produce, post and promote the required content at the applicable intervals, then that would be justifiable grounds for terminating the contract. But what if the influencer is convicted of a crime, engages in offensive behavior or is involved in any sort of public scandal or controversy that might: (i) severely reduce or limit the value of their endorsement; or (ii) otherwise reflect negatively on your brand? In those instances, you will want to have the ability to terminate the agreement as well.
DATA
In order to determine whether the endorsement had the desired effect, it is often useful if the company is provided access to the influencer's metrics/data, such as viewing and engagement figures. If you desire this type of information, then the agreement should clearly outline what information you expect your influencers to provide (and how often they are expected to provide it).
FINAL THOUGHT
Like any other business arrangement, having a written agreement in place with your endorsement partners is always advisable, and in both parties' best interest, as it can provide: (i) an opportunity to clearly define each party's roles and expectations; and (ii) a roadmap for resolving any future disputes. As always, legal counsel should be involved in structuring any such arrangement.
---
The attorneys at Fitzpatrick Lentz and Bubba, have extensive experience advising businesses on influencer and similar advertising agreements. For more information, please contact Ken Charette or any other attorney in our Corporate Business & Banking Group.
Reprinted with permission from the Spring 2021 Edition of Network Magazine. © 2021 All rights reserved. Further duplication without permission is prohibited.