Dec. 19, 2022
Joseph A. Bubba and Joseph A. Fitzpatrick, Jr., two of Fitzpatrick Lentz & Bubba PC's founding members were both included in the Lehigh Valley Business' Power List in Law, published by Lehigh Valley Business.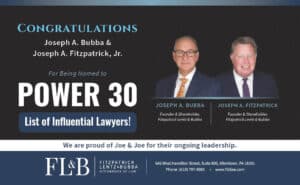 The list, which was announced on December 12, 2022, honors those in the community who, "shape our communities and influence our quality of life through the legal and political foundations our society depends upon."
Mr. Bubba serves as Chair of the firm's  Healthcare Group. Mr. Bubba has an extensive corporate and business practice focused on significant land transactions, mergers & acquisitions and shareholder succession and disputes.
Mr. Fitzpatrick's practice is primarily focused on Real Estate, Land Use & Development. In addition to land use and development, Mr. Fitzpatrick's practice includes real estate, zoning and subdivision, commercial transactions, and general business representation.
Fitzpatrick Lentz & Bubba was founded in 1988 with the goal of creating a regional multi-disciplinary law firm dedicated to serving the broadly emerging Lehigh Valley market. The firm remains dedicated to serving the local Lehigh Valley community both through its law practice and through community outreach and other opportunities.