Jan. 31, 2023
Kate Durso, a shareholder in the Firm's Real Estate, Land Use & Development Group, moderated a Launchbox Ladies panel discussion entitled,  "Kick Start Your Business with Accounting, Legal and Financial Footing," on January 31, 2023, at Penn State Lehigh Valley.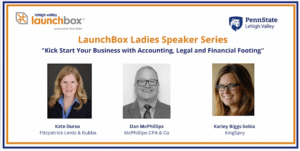 The event was organized by LaunchBox Ladies, an educational speaker series and networking event designed to celebrate the success of entrepreneurs throughout the Lehigh Valley. The mission of LaunchBox Ladies is to provide guidance, support and mentorship to inspire an entrepreneurial mindset.
As a moderator, Ms. Durso will host other local attorneys and accountants to discuss their practical tips for ensuring your business has its accounting, legal and financial needs met.
Ms. Durso serves in FLB's Real Estate, Land Use & Development practice, in which she frequently represents developers and private individuals with zoning and land development issues and submissions. Ms. Durso has additional expertise in representing wireless telecommunication companies in land use and zoning matters. She has assisted clients with approvals for pharmacies, supermarkets, age-restricted communities, apartments, and warehouse distribution centers. She also represents individual and corporate clients in commercial and residential real estate transactions.
Named a "Woman of Influence" by Lehigh Valley Business and Real Estate Forum, Ms. Durso has recently worked on such cutting-edge projects as securing the approval for a 14-acre Solar Farm.