Nov. 11, 2019
On Wednesday, November 6, Fitzpatrick Lentz & Bubba Real Estate Paralegal Kevin J. Gaeta was honored by the Lehigh Valley Phantoms as a "Hometown Hero" for his service to our country.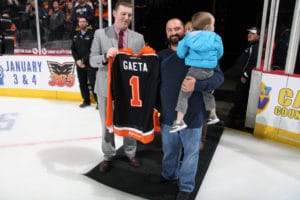 Kevin grew up as a Lehigh Valley resident, graduating from East Stroudsburg High School and receiving degrees from Lehigh Carbon Community College and Kutztown University. In 1999, Kevin enlisted in the Army Infantry and served for the next twelve years. During his time in the Army, he was deployed to Bosnia and Herzegovina from 2002 – 2003 and served two tours in Iraq from 2005 – 2006 and 2008 – 2009. Kevin's military achievements have been rewarded previously with the Combat Infantryman's Badge, the Army Achievement Medal, the Armed Forces Expeditionary Medal, among many others.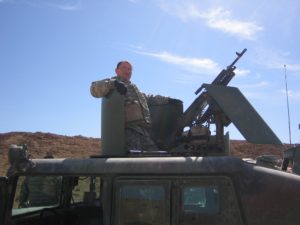 Fitzpatrick Lentz & Bubba are thankful for Kevin's service to his community and country, and are proud to see him recognized for his work. We would also like to recognize our other veterans, Colin Keefe and Jim Bartholomew, and thank them for their service as well. FLB takes great pride in supporting all of the brave men and women who have fought and continue to fight to protect our way of life.