Jul. 12, 2017
During the month of July – the busiest airline travel month of the year – American Airlines passengers around the world will be learning why the Lehigh Valley is great place to visit, relocate and operate a business.  American Way, the in-flight magazine for American Airlines, is featuring the Lehigh Valley in its Spotlight series.
Spotlight Lehigh Valley, a 24-page supplement of American Way, takes a comprehensive look at what makes our region an ideal location for individuals and businesses. Specifically, the special feature includes an overview of the region's history, a deeper look at its major cities, and a showcase of the region's top industries, companies, and economic trends.
Fitzpatrick Lentz & Bubba, P.C. is featured in the supplement through a full-page ad highlighting the Firm's ability to help businesses in the United States and around the world "Develop, Build, and Thrive" in the Lehigh Valley.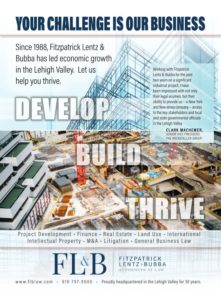 "Over the last 30 years, we have invested in and grown along with the Lehigh Valley," said Joseph Bubba, Co-Managing Shareholder. "We've built a business that currently supports 75 local employees and their families, and we've helped countless companies relocate and build businesses of their own here. Our involvement in Spotlight Lehigh Valley highlights our commitment to the region, as well as our extensive capabilities to help businesses and individuals meet their specific goals."
Spotlight Lehigh Valley will be read by the right people for attracting economic development to the region. At the launch party for the supplement, it was revealed that American Way's readership is the third-highest measured in the nation for household income and ranks in the Top 10 for professional managerial, top-nine job titles, and C-suite executives.
American Airlines offers 6,700 flights daily to 350 destinations in 50 countries. In total, the airline serves nearly 200 million passengers a year. Past communities featured in Spotlight include Miami, St. Louis, Orlando, Charlotte, Philadelphia, Dallas-Fort Worth, and San Antonio.