Oct. 20, 2020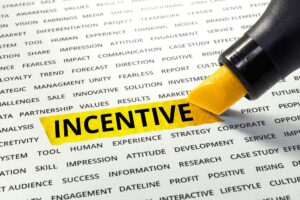 The economic situation in our country is changing dramatically, creating some turmoil, but also providing opportunities for innovation. One area of increasing importance to forward-looking businesses is alternative compensation models for employees.
Generally speaking, employees in service businesses are compensated with a set salary, discretionary bonus and an annual 2-5% raise based on performance. Savvy employers have found that alternative compensation models, which can sometimes take the form of "non-qualified incentive plans", are a great way to blend the ability to keep and incentivize top talent, without having to break the bank with large cash outlays in today's trying economic environment.
There are numerous options when designing and implemented a non-qualified incentive plan. Based on the specific goals of the business, these options vary in complexity, ongoing compliance obligations, and startup costs. Common alternative compensation plans for small businesses generally include the following:
Restricted Stock Plans
Non-qualified Deferred Compensation Plans
Phantom Stock Plan/Stock Appreciation Rights
Non-qualified Stock Option Plans
The main crux of the above plans is that each provides the employee with some type of "skin in the game." Each plan functions by distributing to certain key employees, consultants, directors or other similar service providers the ability to be compensated based on the increased value of the company, of which they have a material part in growing. Additionally, each plan typically provides that parties that are  "awarded" equity in the business must hit certain performance metrics or provide services to the business for a given number of years prior to having their equity interest "vest" (i.e., having its restrictions on transfer lapse). In the long run, studies have shown that these non-qualified incentive plans help foster a more positive work environment and decrease employee turnover.
If you have any questions in regard to employee benefits issues, including forming a non-qualified incentive plan, please contact anyone on our Corporate Business & Banking team.