May. 31, 2022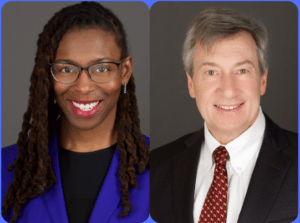 After a 7-day jury trial in Federal Court in Allentown, Maraleen Shields and Doug Smillie obtained a $1.057 million verdict for their client, Arnold's Office Furniture. The case involved claims against a former employee for breach of duty of loyalty, misappropriation of trade secrets and breach of a non-solicitation agreement.
During the pandemic, Arnold's used its sourcing and logistics expertise to locate and import personal protective equipment (PPE), including many items in short supply such as masks, gloves, gowns, shoe covers, hand sanitizer and antiseptic wipes, into the United States. Arnold's then directed its energies to learning about the products and the various certifications and approvals required to sell them, as well as to developing marketing strategies and information to sell the PPE. Arnold's started with its existing customer base and also developed targeted and curated customer lists which it used to reach potential customers.
Seeing an opportunity, the then employee began selling competing products he sourced independently for his own benefit, most of it to his employer's customers. After Arnold's discovered the nature and extent of the individual's acts, it terminated employment and sued under the Defend Trade Secrets Act, the Pennsylvania Uniform Trade Secrets Protection Act, and for breaches of contract and fiduciary duty of loyalty.
The jury found, among other things, that the employee had not only violated his employment agreement and his common law fiduciary duty of loyalty, and had misappropriated trade secrets, but that the misappropriation was willful and malicious. The jury's verdict included an award of punitive damages based on the outrageous nature of the defendant's conduct.
"It cannot be overstated just how important this lawsuit was to our client. Our client was exceptionally pleased to have its position vindicated by a jury" said Ms. Shields, a shareholder in the firm.  Mr. Smillie added, "As attorneys, we are grateful for the time and attention the jury gave the parties. They were attentive and engaged and their service is a cornerstone of our justice system."