Mar. 2, 2021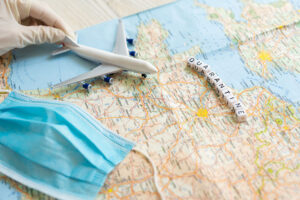 Yesterday, Pennsylvania Governor Tom Wolf rescinded the state-wide order requiring anyone over the age of 11, who visits another state, to quarantine for 14 days upon returning to Pennsylvania.  The so-called "quarantine" order had been in effect since November 2020.
While the order was in effect, employers were challenged to address a myriad of difficult issues such as, whether to pay employees during quarantine when the travel was voluntary, how to monitor employees' personal travel, and whether to discipline an employee who violated the quarantine requirements. After Governor Wolf's announcement yesterday, employers no longer need to concern themselves with those issues.
We recommend that employers notify employees of the rescission of this rule and of any corresponding changes to employer policies related to travel-related quarantine.  We also recommend that the notification be coupled with a reminder to employees that if any employee experiences symptoms of COVID-19 after travel (or at any other time), the employee still must quarantine.  Though it is a welcome relief that some COVID-19 rules are being relaxed and we start to return to a "new normal," employers should remain vigilant, review and adapt workplace policies to ensure consistency with changing health and safety guidelines, and continue enforcement of health and safety recommendations by experts and health authorities, like mask mandates, social distancing, handwashing, etc.
For assistance with these issues, or any other employment law compliance questions, please contact Jacob M. Sitman, Stephanie A. Koenig, or any member of our Employment Law & Labor Relations department.