Jun. 21, 2021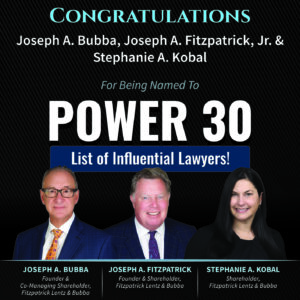 FLB congratulates co-managing shareholder, Joseph A. Bubba, founder & shareholder Joseph A. Fitzpatrick, Jr., and shareholder Stephanie A. Kobal for being named to the "Power 30 in Law" list, which was curated by Lehigh Valley Business' editorial staff.
Joseph A. Bubba is a co-founder of FLB and has been the Firm's managing shareholder since for more than 10 years. He currently shares the role with Erich J. Schock. Mr. Bubba also serves as chair of the Firm's Healthcare Group. In that role, he has "worked with hospitals and medical staffs for more than 30 years." In his free time, Mr. Bubba says he "loves playing golf and still likes to dabble in any sport to help fuel my competitive spirit."
Joseph A. Fitzpatrick, Jr., is also a co-founder of FLB and shareholder in the Firm's Real Estate, Land Use & Development practice area. Mr. Fitzpatrick is actively involved in "transitioning leadership to the next generation, while intelligently growing and positioning the firm in the larger regional marketplace." He says he "enjoys spending time with family and friends, struggling with his golf game, traveling, beach time with the dog, great food and lots of reading." Mr. Fitzpatrick was previously recognized by LVB in their Power 100 list.
Stephanie A. Kobal is a shareholder in the Firm's Real Estate, Land Use & Development and Employment Law practice areas. She has been an attorney for 14 years, joined FLB in 2019, and was elected shareholder in January 2021. She is proud of this election, because it was by peers that Ms. Kobal says she has "looked up to for years." In her free time, she enjoys "running, skiing and working out on her Peleton."