Nov. 29, 2018
Unfortunately, Common Sense Animal Shelter in New Jersey does not have a hippopotamus up for adoption…yet.  But thanks to FLB's "30 Acts of Giving" campaign, the shelter does have plenty of food for the adorable cats awaiting their forever home. The influx of cats, especially feral ones, only increases as the weather gets worse, so every little bit of food helps to save some of those nine lives.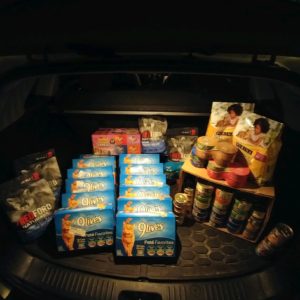 Common Sense Animal Shelter is a non-profit, no-kill shelter in New Jersey. Their mission is to promote animal welfare through education and community service. This is not limited to animal adoption though; they strive to educate all people about the importance of protecting the environment, wildlife, habitat and endangered species of the world.
Follow this link to get involved, or see who is up for adoption right now.
As part of FLB's 30th Anniversary, we decided to give back to the community that has helped us through the years. Our "30 Acts of Giving" campaign entailed collecting donations for and volunteering our time at 30 local charitable organizations.