Dec. 18, 2018
FLB donated buckets of joy to Habitat for Humanity of the Lehigh Valley in mid-December, as part of our "30 Acts of Giving" campaign. We collected and assembled ten "Welcome Home" buckets, each with ten necessary, but often overlooked household items. Some of these items were light bulbs, Pine-Sol, dish scrubbers, and an LED candle for a sprig of holiday cheer. The buckets will be delivered to families as they move into their newly built homes throughout 2019.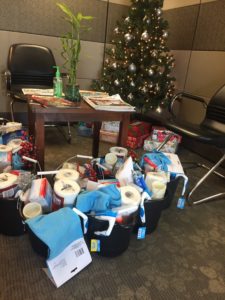 Habitat for Humanity of the Lehigh Valley "is a non-profit organization that works to build simple, decent homes for hardworking, disadvantaged families in the Lehigh Valley." The organization has built 118 homes in the Lehigh Valley region alone, and puts in an average of 388 volunteer hours a week.
To lend "a hand up, not a hand out," check out their website for ways to donate and get involved with events.
As part of FLB's 30th Anniversary, we decided to give back to the community that has helped us through the years. Our "30 Acts of Giving" campaign entailed collecting donations for and volunteering our time at 30 local charitable organizations.